Computers
The library maintains a number of computers and related services for our patrons' use. You will need to have your library card (or photo ID) with you to use the library's computers. Printing is available at 25¢ per sheet. These computers are in high demand, especially certain times of day, so we recommend that you call ahead and reserve one.
All of the public computers have Word processing software so that you can type and print out your letter, paper, resume, or other item. These computers are booked in one-hour timeslots and are usually available.
Internet Access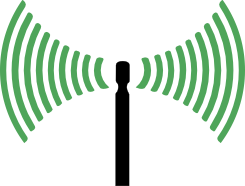 Our public computers are connected to the internet. Access to the internet is provided in accordance with our
internet access policy
. To ensure availability, it is useful to call ahead and schedule a timeslot. (Walk-in appointments are allowed on an as-available basis.)
If you need to use the internet for just a few minutes, our QuickNet computer is available for use in short timeslots (up to 15 minutes). The QuickNet computer is not reserved ahead like the others; it's available on a first-come first-served basis, so you can just walk up to it, use your library card number as a password, and get right on.
Additionally, we provide a wireless access point (802.11b/g/n hotspot), so that your wireless-capable laptop or other device can connect from anywhere on the library grounds (it even works out on the lawn). The SSID for our access point is called publicaccess, and it is available to the public whenever the library is open. (If you are downstairs, you may get better reception on our second access point, publicaccess2.)
Online Information Resources:
The library also provides subscription access to a number of useful information resources. Our patrons may access these resources from within the library (using the internet computers) or from home, via the internet (using your library card number for access). The subscription resources we provide are available via the
Ohio Web Library
.